A CHILD SHOULD NEVER TAKE MEDICATION ON HIS OWN INITIATIVE. HE SHOULD ALWAYS BE ADVISED AND HELPED BY AN ADULT.
The shape of a medication and the way it is dispensed are designed to enable the medication to have maximum effectiveness.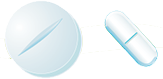 TABLETS
Some are chewable but most of them need to be swallowed with water. Others are designed to release their active substance in the digestive track little by little to have a long-lasting effect.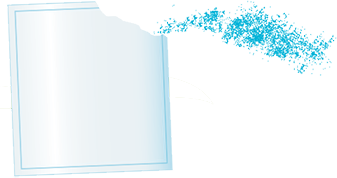 POWDER PACKS AND GRANULES
Powders are generally mixed with water or added to the food of young children. Granules can be swallowed or placed under the tongue where they melt.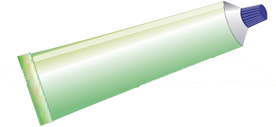 OINTMENTS
Ointments, creams and lotions need to be applied directly on the skin. Most of the time they have a localised action (against pain for example).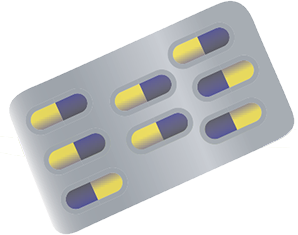 CAPSULES
Capsules always need to be swallowed with their coating and shouldn't be opened. The coating is totally safe and designed to dissolve in the stomach and intestines in order to release their active substance.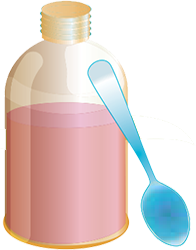 SYRUPS
Syrups are liquid preparations generally sweet and flavoured to make them taste better. Be careful, the children mustn't confuse them with sweets !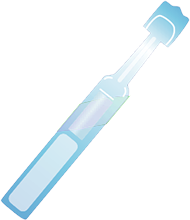 EYEWASH
They are liquids designed to cure eye and eye-lid diseases. You use them by applying a few drops only in the corner of the eye.
FURTHER INFORMATION
The form of a medication is called « galenic form » in memory of the greek antiquity doctor Galien.
We call the active substance of a medication the specific molecule it contains and which has a therapeutic action.
In addition to those mentioned previously there are other forms and methods of administration of medications :
Injectable ampoules are injected in the muscles, under the skin, in the veins or the articulations.
Rectally administrated suppositories ensure fast absorption of certain active substances. They are very useful when a child has difficulty swallowing tablets.
Drinkable ampoules and drops are generally diluted in half a glass of water.
Drops : eye-drops or ear-drops.
Mouthwashes, mouth-sprays and aerosol sprays need to be applied at the back of the mouth to cure a mouth, larynx or pharynx infection.
Transdermal patches are applied directly to the skin to allow the active substance to enter directly the blood stream.