1.The different forms of medicines
The forms of medicines and how they are administered are designed to allow the medicine to work in the best possible way.
A CHILD SHOULD NEVER DECIDE TO TAKE A MEDICINE ON THEIR OWN. THEY SHOULD DO SO ON THE ADVICE OF OR WITH THE HELP OF AN ADULT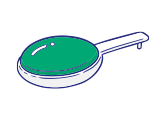 Syrups
These are liquid preparations usually containing lots of sugar and flavourings to give them a better taste. Be careful children do not confuse them with sweets!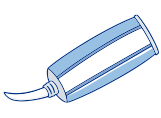 Ointments,
Ointments, creams and lotions are applied directly on the skin. They usually have a local effect (against pain for example).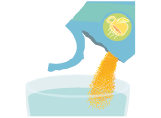 Powders and granules
Powders are usually poured and mixed into a glass of water or in the food of young children. Granules can either be swallowed directly or placed under the tongue where they melt.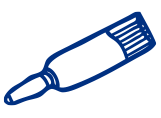 Eye drops
These are liquids to treat eye and eyelid diseases. They are used by applying some drops only in the corner of the eye.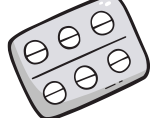 Tablets
Some have to be chewed, but most are swallowed with water. Other tablets are designed to gradually release their active ingredient in the digestive tract to obtain a long-lasting effect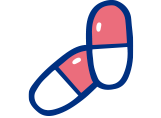 Capsules
You should always swallow a capsule with its coating on without opening it. The coating is designed to dissolve in the stomach or intestine where the active ingredient is released and is therefore safe

Find out more
The medicine's form is called the "pharmaceutical or galenic formulation" after the ancient Greek physician Galen.
The active ingredient of a medicine refers to the compound it contains which has a therapeutic action.
In addition to those mentioned previously, there are other forms and routes of administration for medicines:
Injectable ampoules are administered by injection into the muscles, under the skin, into veins or joints.

Suppositories are administered rectally and allow the quick absorption of some active substances. They can be used when a child has difficulty swallowing tablets.

Phials and drops are usually diluted and taken in a half glass of water.

Drops are administered nasally (nose drops) or in the ears (ear drops).

Mouthwashes and aerosols are applied to the back of the mouth to treat a mouth, larynx or pharynx infection.
Patches are applied directly on the skin to allow the active ingredient to pass directly into the bloodstream